11 Sep 2023

Bald Knob's new boogie

Posted at 8:39 AMh in Features by 501 LIFE Share

By Kelli Reep

It was a sea of bulldog blue at Bald Knob Public Schools' back-to-school breakfast for teachers and staff on Aug. 7. The theme "We Grow Together" set the stage for the school year's vision and 1970s décor, door prizes and other treats were given to encourage teachers and staff throughout the year.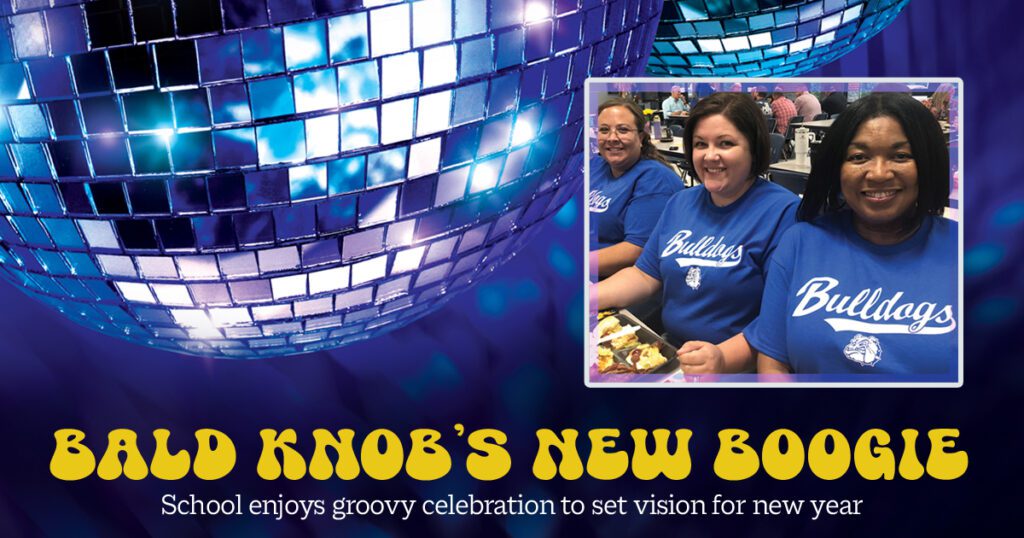 Bald Knob Mayor Gary Looney attended with Balk Knob Police Chief Larry House, as well as Volunteer Fire Department Chief Danny Holobaugh and Southern Bank's Vince Vire, a community partner. Bald Knob Board of Education members and the Superintendent and Rotary President Melissa Gipson also participated in the event. John Blankenship, transportation director, led the prayer.
Board of Education Secretary Paul Johnston said the focus of teachers and staff must be the students. "We can't be content with status quo and daily routines that aren't working," he said. "There may be a better way to lead, and it takes hard work and dedication to get our students to achieve more."
The breakfast included fruit pizza with assorted fresh fruit slices, biscuits and sausage gravy, bacon, ham and sausage, hashbrown casserole, scrambled eggs, coffee, orange juice and punch. Popcorn balls and door prizes were also given to raffle ticket winners, and attendees could have photos taken at two photo booths, including a peace sign and 1970s-era Volkswagen bus. Paul Johnston, secretary of the Board of Education, gave the vision for the school year, "Working Together to See Students Achieve at Higher Levels."
Kellie Smith, director of Bald Knob Public Education Foundation and a fifth-grade teacher at H.B. Luker Elementary School, discussed how the foundation gives scholarships to seniors at graduation to help with college, vocational and trade school expenses. Last year, the foundation granted 20 scholarships worth about $22,000. Funds for the scholarships come from people in the community, as well as teachers and staff within the school district.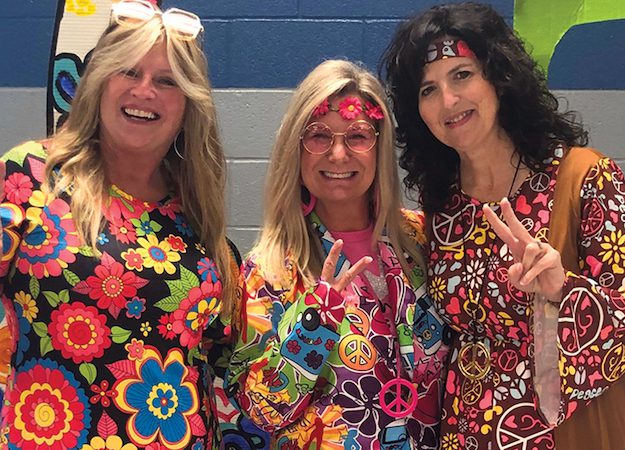 "We are embarking on an incredible journey of learning this year with great opportunities for positive celebrations ahead," Gipson said. "Our schools have been hard at work over the summer, ensuring the upcoming academic year is one of growth, learning and safety. Our teachers and staff are delighted to welcome our students back to school and dedicated to providing them with the highest quality education and support. We are committed to fostering a supportive learning environment where each student can thrive and excel in our district's core values—pride, achievement and integrity."
The first day of school was Aug. 14. Formed in 1897 from the Shady Grove District, Bald Knob Public Schools has grown from a two-teacher school to a campus housing an early childhood center and elementary, middle and high schools. Accredited by the Arkansas Department of Education, Bald Knob Public Schools encompasses almost 184 square miles in White and Jackson counties and serves Bald Knob and portions of Bradford, Russell and Judsonia. For more information visit baldknobschools.org.